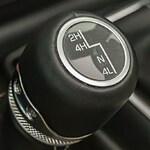 When you're off-roading outside the Midland, TX limits, you're bound to come across a few obstacles. And if you're not driving the right kind of vehicle, you might be wasting precious time trying to drive around obstacles instead of plowing right through. Swing by All American Chrysler Dodge Jeep Ram of Midland and explore the magic of the all-new Jeep Wrangler.
The Jeep Wrangler offers an impressive ground clearance that keeps you high off the ground and safe from most obstacles. You can drive over logs, stumps, rocks, boulders, puddles, and more without risking damage to the vehicle. The underside of the vehicle is fully protected to keep mud and water from seeping inside and ruining the components. The Jeep Wrangler is tough and hardy and ready to roll.
With the Jeep Wrangler, you'll be able to go off the beaten path and drive through landscapes that you've never seen before. Start living your dreams today with the Jeep Wrangler.