Used Cars, Trucks, and SUVs for Sale in Midland, Texas
Many customers nowadays want to find the most affordable car they can find. It's completely understandable as well - you want to make sure you're getting some bang for your buck.
Here at All American Chrysler Jeep Dodge of Midland we want to help you find a quality car for an affordable price. That's why we have a large and comprehensive amount of pre-owned vehicles that fit most budgets.
Why Should I Buy A Pre-Owned Vehicle?
Pre-owned vehicles are becoming more of a popular alternative to new vehicles for a number of reasons.
Firstly, they are usually much less expensive than a new vehicle. This means that you would be saving thousands of dollars on a vehicle whose only difference from its new counterpart may be the year it was made.
Secondly, vehicles are living longer lives nowadays. Thanks to continued innovation and increased knowledge of technology and automobiles, it's not uncommon for a vehicle to have 150,000 miles on it and still be capable of going further. Before, a vehicle with 100,000 miles was a sign that it was at the end of its life, but not anymore.
So, essentially, you would be spending less money to get a pre-owned car that would have the same lifespan as a new one.
Additionally, many of these vehicles are from recent years. It's not uncommon for a customer to find a new vehicle they like, and then turn around to find the same model from a previous year that is much more affordable to them. This means that many of the features on the newest model - including safety and entertainment features - are still available in the pre-owned model. The difference, again, is how much money you would be saving.
You Can Afford a Used Car from All American Chrysler Jeep Dodge of Midland
Once you've picked out the used car, truck, or SUV that suits your interests and needs, you can meet with our financing team, who would be more than happy to sit down and crunch the numbers with you. They will provide you with a payment plan that is affordable and fits your budget.
Keeping Your Car On the Road
One of the most important things is, once you've driven your car off the lot, ensuring that your vehicle is healthy and taken care of during its lifespan. That's why our expert service team is here to make sure that your car is running smoothly.
Between regular checkups and fixing any existing issues, our service team will work efficiently to make sure the issue at hand is taken care of in a timely manner. We don't want you to have to sit in the waiting room for too long!
Visit Us Today!
Want to find a quality vehicle without having to worry about breaking the bank? Whether you're right in Midland, or one of the many areas we service, including San Angelo, Abilene, and Brownwood, we invite you to stop by All American Chrysler Jeep Dodge of Midland in Midland, TX. Our wonderful team of experts will make sure you find the vehicle that fits your lifestyle and personality.
All American Chrysler Jeep Dodge of Midland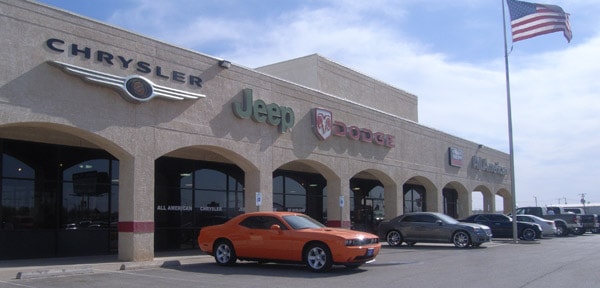 Chrysler, Jeep, Dodge, Ram
Serving drivers in Odessa, Big Spring, Andrews, Lamesa
3801 W Wall St, Midland, TX, 79703
989-941-0805