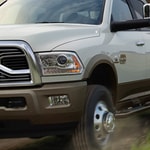 For those who want the most from their heavy-duty truck, there is the Ram 3500. This is the truck that is not only big and powerful, it is also designed to give you everything you need inside the cabin. Here are some of the top premium features that you will find inside the Ram 3500.
The Ram 3500 is one of the few trucks that comes with an active noise canceling system. This system is able to negate the sound of road noise to give you and your passengers a nice quiet cabin. This will allow you to enjoy your music more or simply make it easier to enjoy a conversation with the other passengers.
When the weather gets cold, you can rely on the Ram 3500 to keep you warm with heated seats available on higher trim levels. These heated seats are designed to work fast and make you feel comfortable.