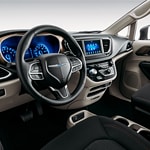 The Chrysler Voyager is a leader in every possible sense. Other minivans in the same class hardly compare to its capabilities. When it comes to choosing a minivan, the Chrysler Voyager is the deal-breaker. This is what the Chrysler Voyager can and cannot do.
First, the Chrysler Voyager can tow up to a dramatic 3600 lbs., a capacity most vans can't manage. The vehicle delivers a horsepower of 287 powered by a 3.6 L V6 engine. The van also offers a nine-speed automatic transmission and a front-wheel drive. The recommended kind of fuel to consume is regular unleaded, which gets us to fuel economy.
Once again, the Chrysler Voyager records 28 mpg on the highway, 19 in the city; this makes an average of 23. All American Chrysler Dodge Jeep Ram of Midland appreciates the ability of this van to take fuel economy a level higher. Most of all, the vehicle's price is quite friendly and delivers more than what other vans deliver.